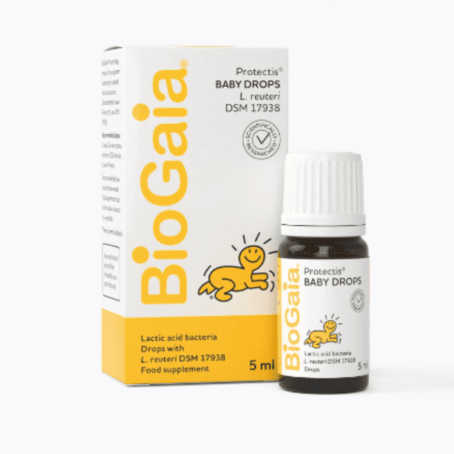 Price: £14.84 per month*
Date reviewed: 05/2023
Claims
1. One of the safest and most clinically studied probiotics in infants
2. Supports your baby's gut health from the very first days of life
What's in it?
L. reuteri DSM 17938 (5 drops contain 100 million cfus). Other ingredients: Sunflower oil, Medium chain triglyceride oil (palm kernel)
*price per month with monthly subscription
What does the research say?
Yes, BioGaia Protectis strain DSM 17938 has many randomized, controlled trials in children and adults
DSM 17938 may help to improve abdominal pain, constipation, and diarrhoea, including reducing the duration of diarrhoea and infection caused by gastroenteritis
A meta-analysis found that DSM 17938 is one of the most effective probiotics for infant colic
The Verdict
BioGaia Protectis may have several benefits on gut health in children and infants
The strain DSM 17938 can also be found in BioGaia Gastrus for adults
Reviews are for informational purposes only and do not constitute medical advice
Got a product you'd like us to review?
Got a product you want us to test? Or a topic you want to know more about? We want to hear it!