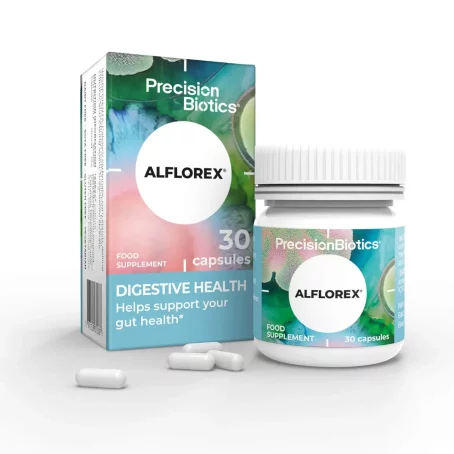 Price: £21.21 per month*
Date reviewed: 05/2023
Claims
1. Daily digestion support  – contains calcium which contributes to the normal function of digestive enzymes
2. Scientifically tested bacterial culture – live friendly bacterial culture – 35624®
3. Proven – to reach the gut in peak condition
What's in it?
Bifidobacterium longum 35624 at a dose of 1 billion
Other ingredients: calcium carbonate, corn starch, Gelling agent: hydroxypropyl methyl cellulose, Anti-caking agent: magnesium stearate
*price per month with subscription based on 1 capsule per day
What does the research say?
Alflorex® contains the strain 35624, which has been well researched in people with IBS. A 2017 meta-analysis of randomized, controlled trials (high quality evidence) showed that it may be helpful for bloating and abdominal pain, but a separate study found that it wasn't helpful for these symptoms in people who do not have IBS
Another randomized, controlled trial found that 35624 at the dose in Alflorex (1 billion) was able to reduce inflammation in people with ulcerative colitis, psoriasis and chronic fatigue syndrome
The Verdict
Alflorex® is Tummy Trusted for its extensive research in IBS.  It may also be helpful to reduce inflammation in inflammatory conditions, including ulcerative colitis (when used alongside regular medications)
Reviews are for informational purposes only and do not constitute medical advice
Got a product you'd like us to review?
Got a product you want us to test? Or a topic you want to know more about? We want to hear it!