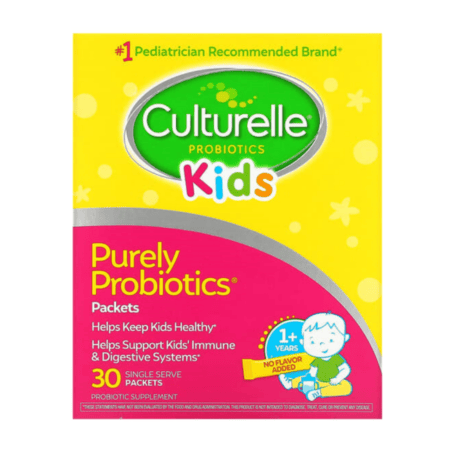 Price: £19.79 per month*
Date reviewed: 05/2023
Claims
1. Lactobacillus rhamnosus GG, the #1 most clinically studied strain in children
2. Lactobacillus rhamnosus GG found that it is strong enough to survive stomach acids
3. Complements your kids' intestinal flora
What's in it?
Each sachet: L. rhamnosus GG (5 billion cfu), Inulin (450 mg). Other ingredients: Sweetner (mannitol), Anti-caking agent (silicon dioxide)
*price per month with monthly subscription of packets/sachets
What does the research say?
Culturelle Kids contains L. rhamnosus GG, which is one of the most extensively researched probiotic strains in children
At the dose in Culturelle Kids, L. rhamnosus GG may be helpful to prevent diarrhoea caused by antibiotics or gastroenteritis (food poisoning) in children
The Verdict
Culturelle Kids (L. rhamnosus GG) has been shown in studies to potentially help with gut health in children
Culturelle Digestive Daily may also be helpful for adult gut and brain health
Reviews are for informational purposes only and do not constitute medical advice
Got a product you'd like us to review?
Got a product you want us to test? Or a topic you want to know more about? We want to hear it!