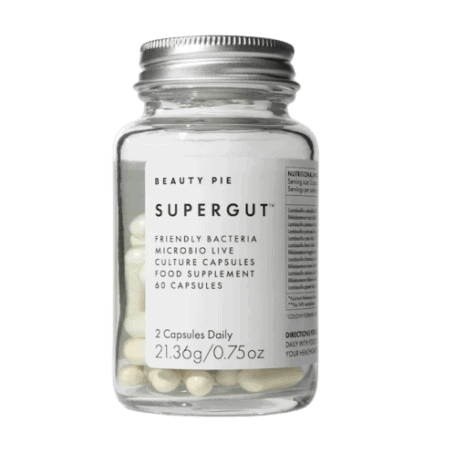 Price: £32 per month*
Date reviewed: 10/2023
Claims
High strength
Live bacteria that survives throughout the gastrointestinal tract
(*) = based on subscription of £10 per month, and £22 per bottle.
What's in it?
Lactobacillus Acidophilus DDS-1, Bifidobacterium Lactis UABla-12, Lactobacillus Plantarum UALp-05, Lactobacillus Paracasei UALpc-04, Lactobacillus Casei UALc-03, Lactobacillus Brevis UALbr-02, Bifidobacterium Longum UABI-14, Lactobacillus Rhamnosus UALr-18, Bifidobacterium Breve UABbr-11, Lactobacillus Salivarius UALs-07, Bifidobacterium Bifidum UABb-10, Lactobacillus Gasseri UALg-05 (50 billion CFU total).
Bulking Agent (Microcrystalline Cellulose), Capsule Shell (Hydroxypropyl Methylcellulose), Anti-caking Agents (Magnesium Stearate, Silicon Dioxide).
What does the research say?
A randomised controlled trial in 94 people with functional constipation showed that a probiotic containing Lactobacillus acidophilus DDS-1, Bifidobacterium animalis subsp. lactis UABla-12, Bifidobacterium longum UABl-14 and Bifidobacterium bifidum UABb-10 at a combined dose of 15 billion CFU had no benefits for constipation compared to placebo.
A randomized controlled trial in 330 people with irritable bowel syndrome (IBS) showed that Lactobacillus acidophilus DDS-1 at a dose of 10 billion CFU/dayand Bifidobacterium animalis subsp. lactis UABla-12 at a dose of 10 billion CFU/day may help to improve symptoms of IBS including abdominal, bloating, and stool consistency. However, it is unclear what dose of these individual probiotics are in beauty Pie Supergut.
To our knowledge, no other strains in this product have been studied in a human clinical trial.
The Verdict
Whilst some of the probiotic strains in Beauty Pie Supergut have been studied, the dosage and combination of probiotics in Beauty Pie Supergut has not been specifically tested. Clinical research of this product is required before claims can be supported.
Reviews are for informational purposes only and do not constitute medical advice
Got a product you'd like us to review?
Got a product you want us to test? Or a topic you want to know more about? We want to hear it!